As a country rich in palm oil and fish commodities, Indonesia is one of the largest exporters of animal fats and vegetable oil products in the world. Nevertheless, the demand for animal fats and other vegetable products that are not available in Indonesia, such as olive oil, some kinds of margarine, etc., is still very high. Therefore, Indonesia continues to import many of these products. Then how to import animal fats and vegetable oil to Indonesia?
Animal fats and vegetable oils are on the first rank of Commodities that Indonesia had export in 2020 based on the data from BPS (Indonesian Central Bureau of Statictic).
In order to balance their trade, they also import these goods from abroad. In addition, they also import many oil and fat products that cannot be produced domestically.
So what should be considered when importing animal fat and vegetable oil to Indonesia?
Overview of Imports of Vegetable Oil and Animal Fat in Indonesia
In 2019, the import value these commodities in Indonesia reached $250 million. This value increased by 20% compared to 2018.
Ten countries with the largest importer of animal fat and vegetable oil to Indonesia is Malaysia. This is followed by Singapore, Australia, Philippines and China.
In addition to these five countries above, Thailand, Chile, Italy, Spain and the US are also part of the largest import partners of animal fat and vegetable oil in Indonesia.
How to Import Animal Fat and Vegetable Oil to Indonesia?
To import animal fats and vegetable oils into Indonesia, you must be familiar with the regulations that apply in Indonesia, including:
To be able to import products to Indonesia, you first need to find out the HS code of the products.  In order to find it, you can use the HS code search feature on our website.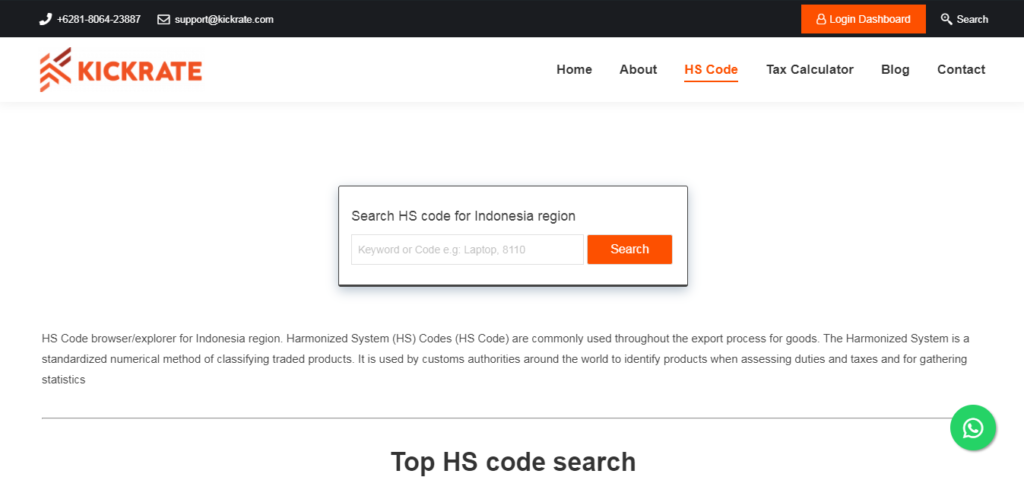 In the search bar, you can search for the product you want. For example, I want to find the HS Code for animal fat.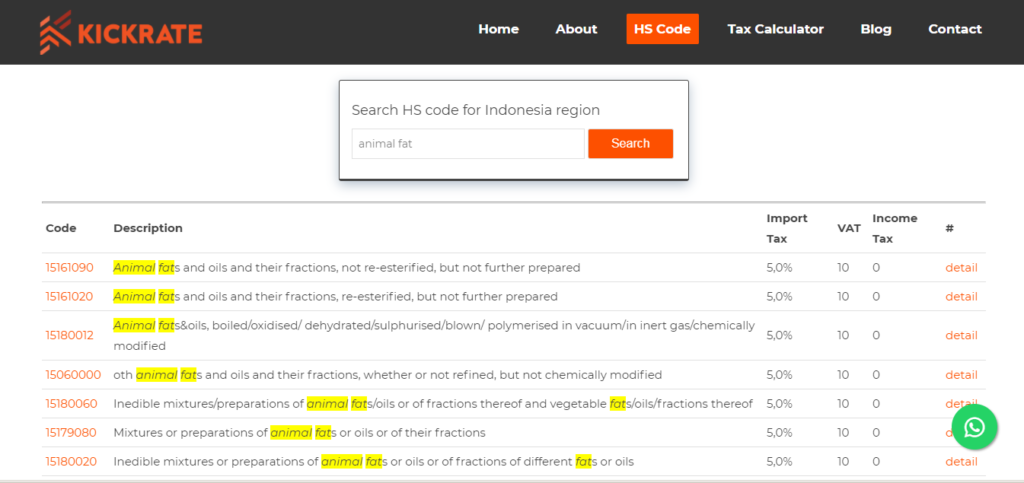 Then select the HS Code description that matches your product. The number on the Code Column is the HS code number for the product you are looking for.
2. Calculate How Much Taxes You Need to Pay
In order to know how much tax you have to pay, you can also see it on our website. After you find the right HS Code for your product, then click the HS Code to see all details. For example, I will click the top HS Code on animal fat search result.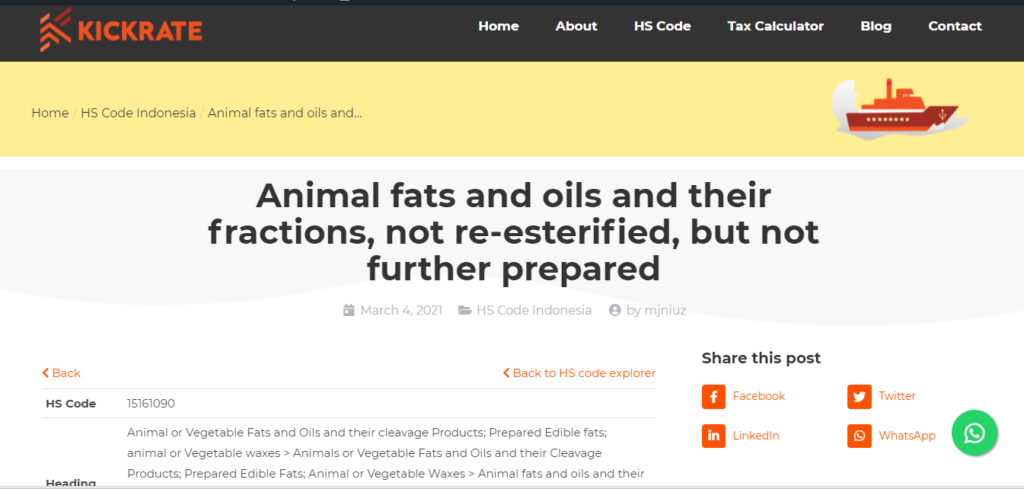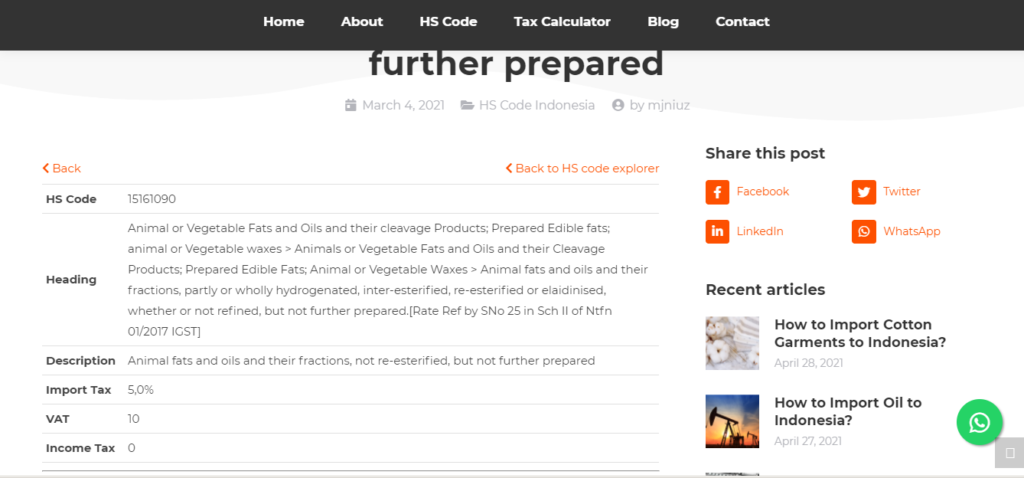 Scroll it down, You can see in the tax column. Based on the picture above, you have to pay Import Tax 5% and VAT(Value Added Tax) 10% for importing an animal fat to Indonesia. You can calculate it yourself or use our calculator here
3. Look at the Post Border Import Requirement
Afterward, pay attention on the Post Border Import requirements. As some of the Animal Fat and Vegetable oil are considered LARTAS goods, make sure to check whether it has any additional documents to submit to customs or not.
As of now, we will continue from the example of animal fat on the steps above.

Based on the picture above, it has Pembatasan (Restriction) detail. You need to submit a Surat Keterangan Impor (Import Permit Letter) Number 854. The contents of this letter declare that the goods you are importing are foodstuffs safe for human consumption. This letter must be approved by the Indonesian Food and Drug Administration (BPOM).
4. Watch out for Restrictions and Regulations
As was previously stated, some animal fats and vegetable oils are considered LARTAS Goods. You also need to check out the Restrictions and Regulations aside of Post Border Import Section.

After Post Border Import table, you will find Restrictions and Regulations table. This has two Pembatasan/Restrictions. You need a permission by Agricultural Quarantine Agency first.
Animal, fish and plant quarantine are measures to prevent the entry and spread of pests and diseases in Indonesia. So this document ensures that your product is protected from things that could endanger it.
5. Check Your Country's Regulation on Importing Animal Fat
Above all, make sure to check the animal fat and vegetable oil trade regulations in your country so that there are no mistakes when importing fats and oils to Indonesia.
6. Decide Which Payment Method You Want to Choose
After that, decide which payment method you want to use with your client in Indonesia, Shipping, etc. Usually, Importers most likely will choose using Letter of Credit payment method.
7. Determine The Shipping Method
Besides the points above, make sure to find trustworthy shipping agent to import animal fat and vegetable oil to Indonesia. You can choose shipment whether by air or sea. Do not forget to also prepare the shipment document needed such as Bill of Lading.
8. Consider to Use Importer of Record (IoR) service
If you are an animal fat or Vegetable oil producer/supplier who does not yet have a company in Indonesia, processing all permits will take months. You will have to start from finding buildings for the company, completing the company permits, then the import permit documents from the relevant authorities, customs clearance to the delivery of the goods.
So, Using an importer of record service such as Kickrate is suitable for those of you who do not want to bother with the matters above. It could also be for those of you who do not have a company and want to import Animal Fat and Vegetable Oil with the help of professional hands in Indonesia.