In fact, there are several regions in the world have areas that produce high-quality essential oils. One of the highest producers of essential oils in the world is Indonesia. Therefore, how to buy essential oils in Indonesia?
Essential oils are defined as volatile oils in plants that can be found in roots, bark, leaves, flowers, and seeds.
Usually, it is used as raw material for the perfume industry, fragrances, aromas, pharmaceuticals, cosmetics, and aromatherapy.
Also, there are approximately 160-200 various aromatic plants, some of which exist in Indonesia.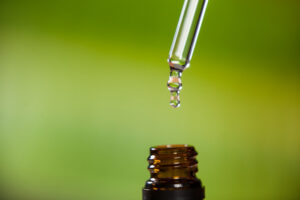 Essential Oil in Indonesia
As a country that ranks as the sixth-largest exporter of essential oils in the world (after India, the United States, France, China, and Brazil), Indonesia has a diversity of essential oil products.
The total production capacity of it in Indonesia can reach 5,000 to 6,000 tons per year
Patchouli oil is one of the export commodities from Indonesia. Around 85-90 percent of the global patchouli oil market share (2,000 tons per year) is from Indonesia.
Aside from Patchouli oil, Indonesia also produces other kinds of essential oils. Including cinnamon oil, vetiver oil, sandalwood oil, cubeb oil, ylang-ylang oil, nutmeg oil, clove oil, and eucalyptus oil.
In the last five years (2016-2020) the value of Indonesia's essential oil exports increased. Exports to India were up 10.73% per year, to the United States were up 4.79% per year, to France were up 2.38% per year, and to China were up 5.72% per year.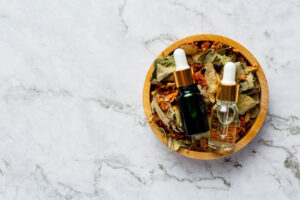 How to Buy Essential Oil from Indonesia?
To buy essential oil from Indonesia, there are several steps you better notice first. Such as :
1. Find HS Code of Essential Oil
First and foremost, you need to find out the right HS Code of the essential oils you want to buy from Indonesia. In kickrate, we provide an Indonesian HS Code explorer for easier searching.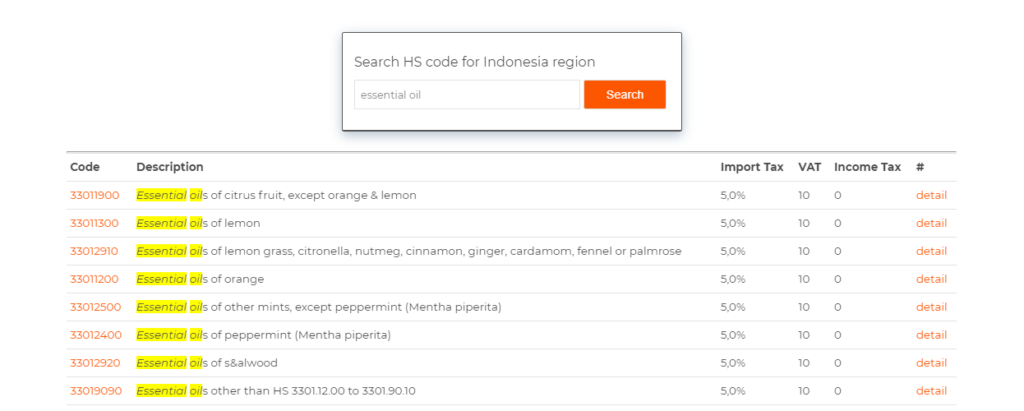 After clicking the link above, type essential oil on the search bar. Then the result will appear in a second. Choose which descriptions that suits you the most.
2. Calculate The Tax of Essential Oil
Second, do not forget to check in how much taxes to pay for buying essential oil from Indonesia. The details of the taxes can be found inside the HS Code.
After you find the right HS Code, scroll down to the taxes section as the picture below.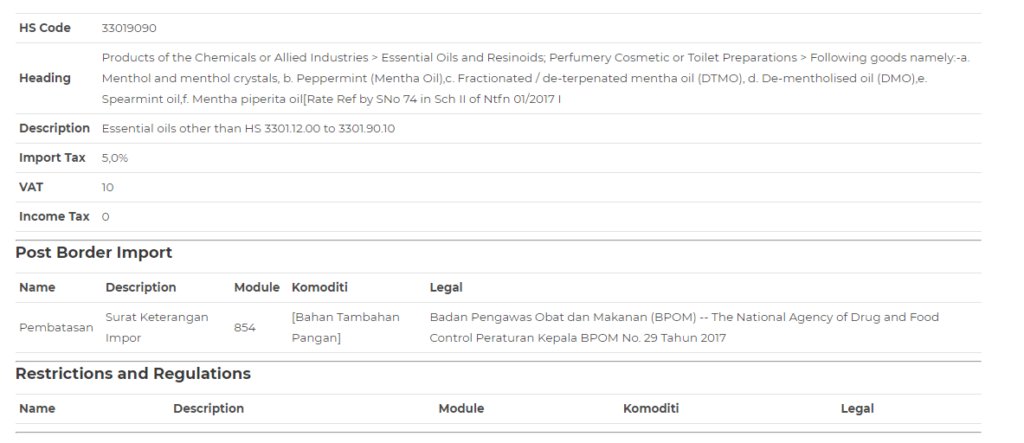 To buy essential oils, you have to include 5% or import duty and 10% of value-added tax (VAT). For its calculation, feel free to use our Indonesia import tax calculator to get a faster and accurate estimation.
3. See The Additional Documents
Aside from the taxes, one thing to notice also is whether you need additional documents or not. For importing essential oil from Indonesia, make sure to obtain an Import Letter (Surat Keterangan Impor). 
4. Choose The Right Payment
Definitely, choosing which payment method would be most suitable for all parties is an important aspect. Usually, many exporters and importers choose the letter of credit as their payment method. 
5. Find Trustworthy Shipment Party
Aside from the points above, do not forget to use a trustworthy shipment carrier/freight forwarder. This is essential because they have to deliver your goods safely to the destination. 
6. Use Importer of Record Services
The last part, handling all the things above by yourself somehow could be very inefficient. Especially if you want to keep focusing on your core business.
Furthermore, it is very effective to hire a third party such as Kickrate's Importer of record service. By using our service, you do not have to worry about handling all the points above. Feel free to contact us for more information.