Indonesia is one of the largest markets for mobile phones after China, India and the United States. Because the development of technology and information, this has made mobile phones a first necessity for many people. Seeing this trend, many dealers from abroad want to sell mobile phones to Indonesia. Then how to import mobile phones in Indonesia?
Overview of the Import of Mobile Phones in Indonesia
The use of mobile phones in Indonesia will continue to increase. In 2019, 63.3% of Indonesians have been using smart phones. This is a significant increase compared to 2015, when only 28.6 people used mobile phones.
In addition to that, a social media platform company from Canada, Hootsuite, in collaboration with We are Social from the UK, recently published the development of internet users around the world, including Indonesia.
In its research, it was stated that the number of smartphones connected to the internet has reached 338.2 million units. This means that almost all Indonesians own more than one smartphone on average.
From there, it is clear that the mobile phone market in Indonesia has great potential. There are many opportunities for importers who want to import mobile phones to Indonesia. So, what about the rules for importing mobile phones to Indonesia?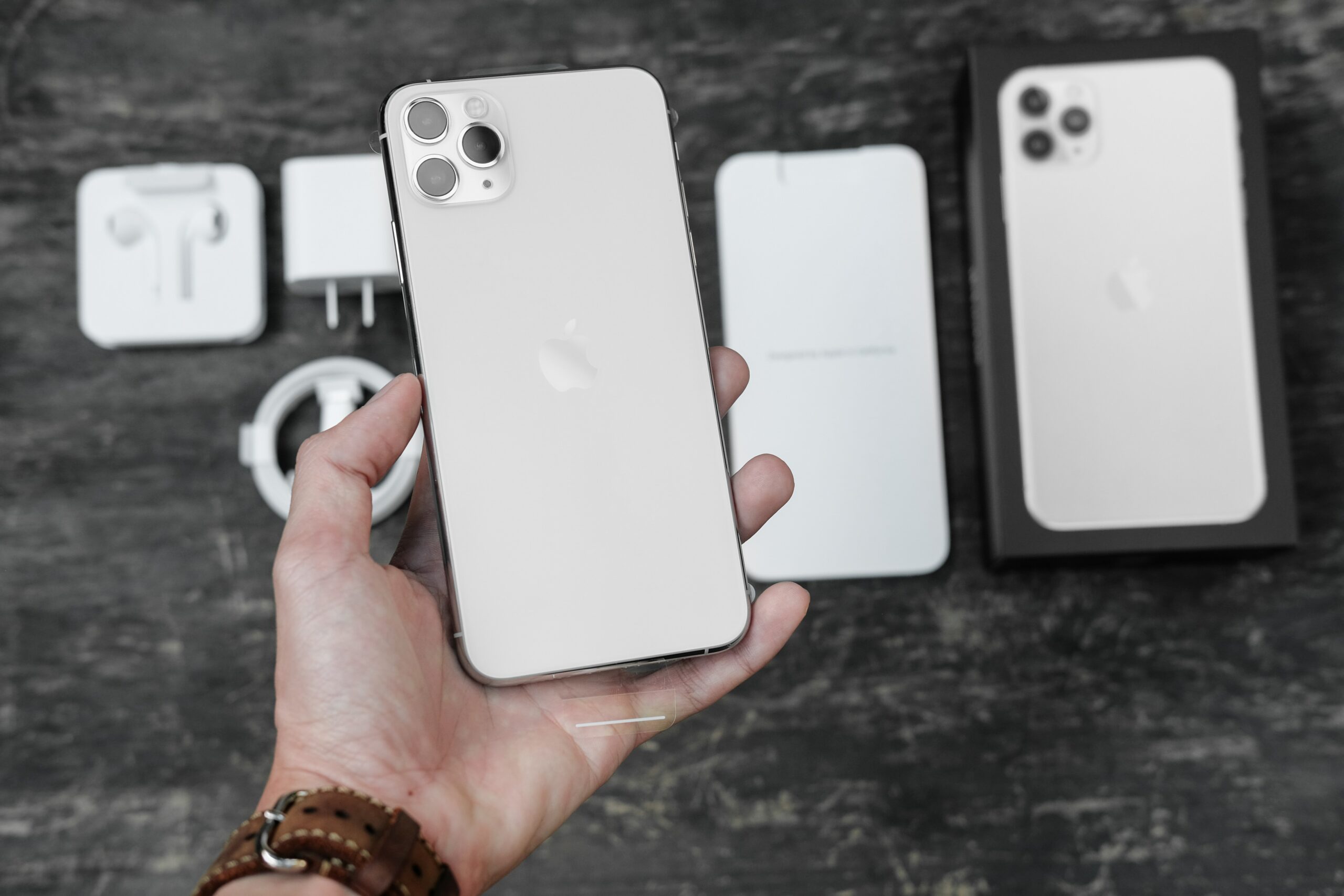 Requirements for Importing Mobile Phones into Indonesia.
Based on the regulations of the Minister of Trade and Communications in 2020, all mobile phones that want to enter Indonesia must be registered with IMEI. This is done to reduce the number of illegally refurbished mobile phones entering Indonesia
Along with the registration of IMEI rules, there are a number of strict requirements that must be followed by any mobile phone importer, including:
1. Taxpayer Registration Number (NPWP)
To start with, There is NPWP or Taxpayer Registration Number is an abbreviation for Nomor Pokok Wajib Pajak in Indonesian. It is meant to serve as identification that indicates that you are meeting your tax obligations in Indonesia. You must have a NPWP if you want to import mobile phones into Indonesia.
2. Registered Importer Identification/Importir Terdaftar (IT)
The second requirement is IT (Importir Terdaftar). This document indicates that your companies or legal entities that have received recognition from the Indonesian government. Importir Terdaftar gives permission to import certain goods in accordance with applicable regulations.
3. Statement Letters / Surat Pernyataan
Afterward, Statement Letter is a letter stating that you are willing to legally import a mobile phone into Indonesia. There are two types of it.
The first one is a statement about your plan to import the mobile phone for 1 (one) year. In this letter, you must indicate the quantity, type of goods, 8-digit number HS, country of origin, port of loading and port of destination by affixing a 6000 stamp.
The second one is a statement letter from the director/owner of the company that wants to import mobile phones to Indonesia. This letter will provide strong evidence of your intention to import.
4. Assignment Letter / Surat Penunjukkan
Next, there is an assignment letter. This letter states that the principal of your home company has assigned you to import mobile phones to Indonesia.
Besides those requirements above,  there is a letter of recommendation. This letter shows the recommendations of a number of ministries in Indonesia. In order to import mobile phones to Indonesia, you must obtain a letter of recommendation from the Ministry of Industry and the Ministry of Communications and Information (KEMKOMINFO).
6. Business Registration Number / Nomor Induk Berusaha (NIB)
One of the most important requirements is NIB. NIB is a document that reveals the legality of your business in Indonesia. One of the requirements to import mobile phones to Indonesia is that you must have a company based in Indonesia.
Last but not least, there is a SKPLBI. This is an acronym for Surat Keterangan Pencantuman Label dalam Bahasa Indonesia in Indonesian. It is a letter that the product you are importing should have a label in Indonesian. As of 2015, this is optional.
Steps on Importing Mobile Phones to Indonesia
For those of you who wants to import mobile phones into Indonesia, below are the steps to begin.
1. Find HS Code for Importing Mobile Phones to Indonesia
To be able to import products to Indonesia, you first need to find out the HS code of the products.  In order to find it, you can use the HS code search feature on our website. In the search bar, you can search for the product you want.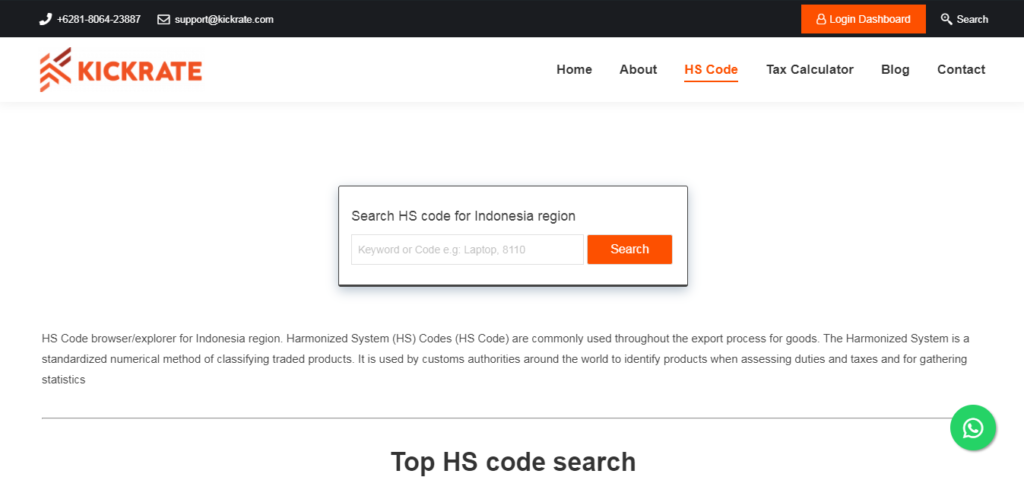 Besides searching it by yourself, you can also click on top search HS Codes. We provide mobile phones HS Code there. The eight number on the description is the HS Code.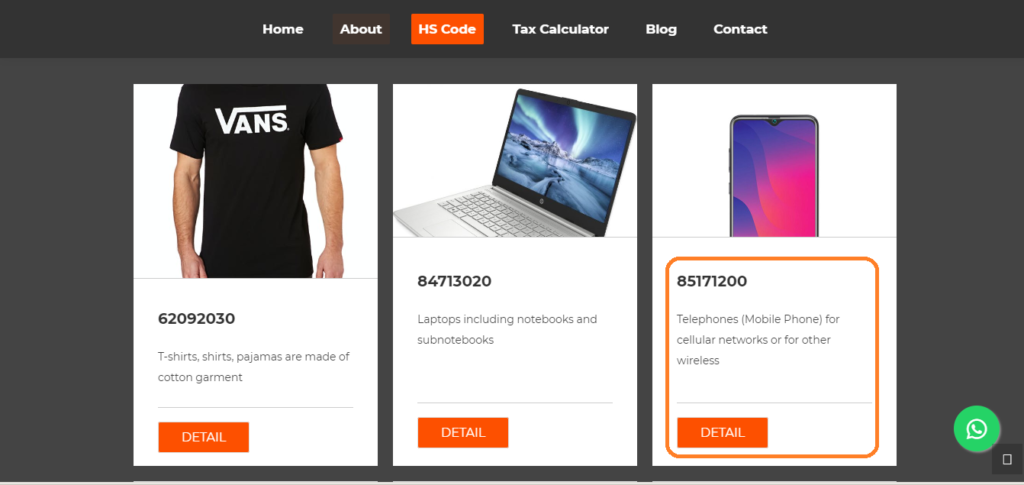 In order to know how much tax you have to pay, you can also see it on our website. After you find the mobile phone HS Code, then click detail button to see the detail.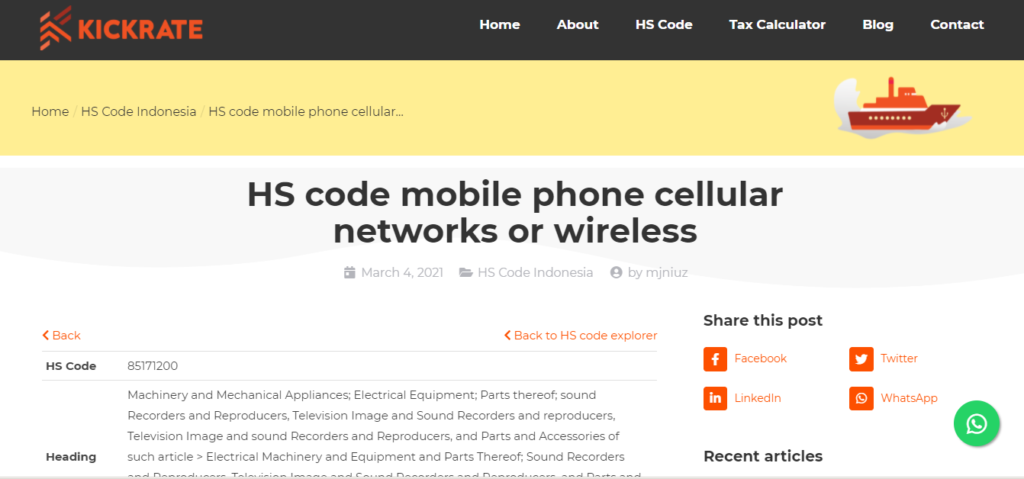 If you scroll it down, you can see the taxes detail.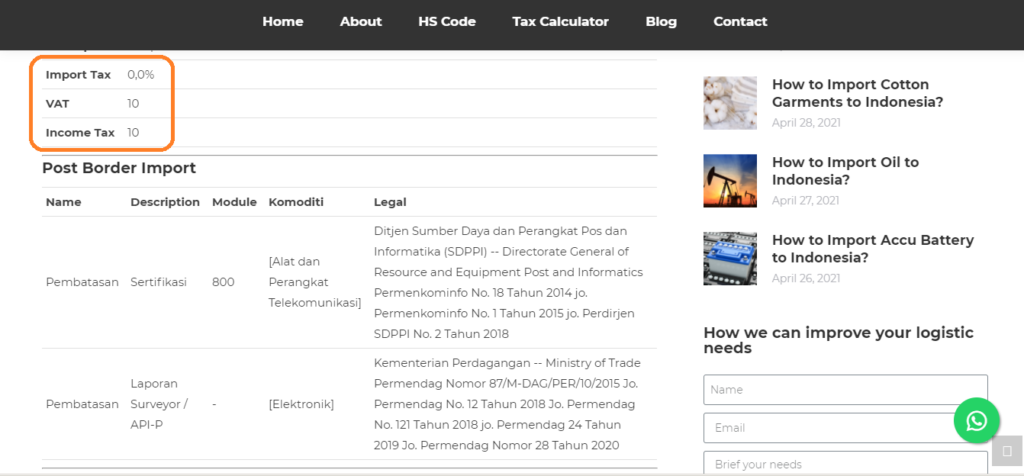 Furthermore, You need to pay 10% of VAT (Value Added Tax) and 10 % of income tax to import mobile phones into Indonesia. You can calculate it by yourself or click our tax simulator here to make it easier.
3. Look at the Post Border Import Information
After that, do not forget to check the information on Post Border Import table. Since mobile phones belong to LARTAS goods, you need some additional documents.

As explained on the picture above, there are two Pembatasan / Restrictions. First is you need to submit an telecommunication equipment certification that is confirmed by Ministry of Communications and Information (Kemkominfo).
The second document is an API-P license or Surveyor's Report. This is the requirement based on the Ministry of Trade's regulations.
4. Beware of The Restriction and Regulations
As was previously stated, mobile phones are considered LARTAS Goods. You also need to check out the Restrictions and Regulations aside of Post Border Import Section.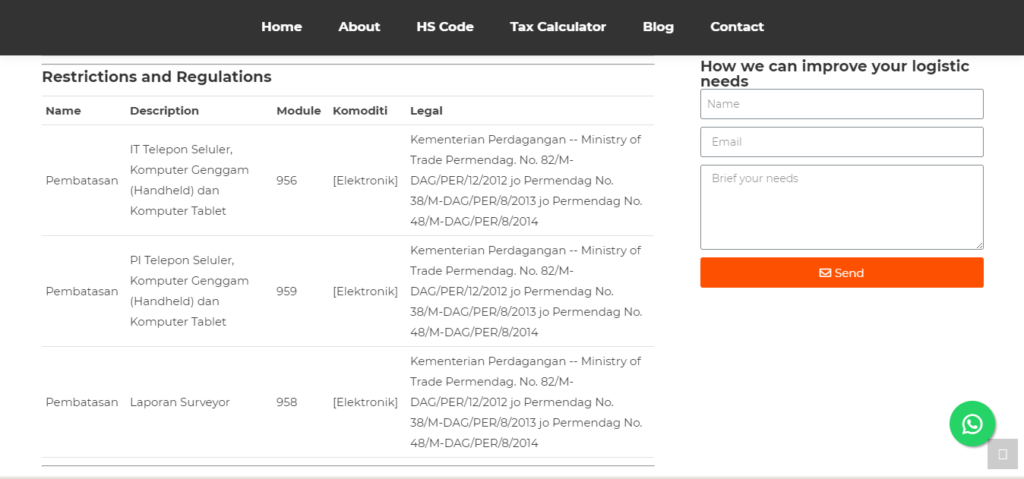 After Post Border Import table, you will find Restrictions and Regulations table. This has three Pembatasan/Restrictions. Make sure to provide all the documets required to get your products passed on custom clearence later.
5. Choose the Payment Method
Moreover, decide which payment method you want to use with your client in Indonesia, Shipping, etc. You can choose using Letter of Credit , advance payment, etc..
6. Determine the Shipment
Additionally, make sure to find trustworthy shipping agent to import mobile phones into Indonesia. You can choose shipment whether by air or sea. Do not forget to also prepare the shipment document needed such as Bill of Lading.
7. Consider to Use Importer of Record (IoR) service
On the other hand, processing all permits will take months. You will have to start from finding buildings for the company, completing the company permits, then the import permit documents from the relevant authorities, customs clearance to the delivery of the goods.
So, Using an importer of record service such as Kickrate is suitable for those of you who do not want to bother with the matters above. It could also be for those of you who do not have a company and want to import mobile phones legally with the help of professional hands in Indonesia.