Who does not know olive oil? The oil extracted from olive fruit has many benefits and uses. In Indonesia, they use imported olive oil for many beauty and food products. In this article, we will talk about how to import olive oil to Indonesia.
The Market for Imported Olive Oil in Indonesia
In Indonesia, people use olive oil in many products. Both as a cooking oil and as an ingredient for beauty care.
In general, olive oil is available in five main types. These are extra virgin olive oil, pomace olive oil, virgin olive oil, refined olive oil, light olive oil, and extra light olive oil.
These types of olive oil are distinguished by their quality. Cold-pressed oils like extra virgin olive oil are indeed the most expensive. It is usually used as a salad blend or as a cosmetic blend.
Meanwhile, people use other below-grade types of olive oil as cooking oil.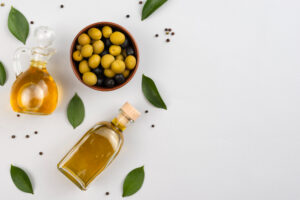 Import Olive Oil in Indonesia
As of 2019, the Indonesian government has officially abolished the imposition of import duties on dates and olive oil products from Palestine.
This is because of the minimal production of olive oil in Indonesia. In fact, Olive fruit is hard to grow in Indonesia
Nevertheless, Indonesia still imports olive oil from other countries. Although import duties to Indonesia have not been abolished for other countries aside from Palestine.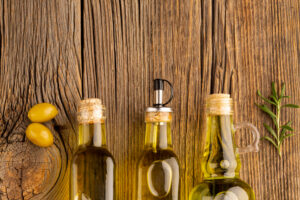 How to Import Olive Oil to Indonesia?
In general, you can import olive oil to Indonesia as follows.
1. Check The Olive Oil Export Rules in Your Country
First, check the olive oil export regulations in your country. Make sure all the rules and administrative regulations are followed and nothing is against the rules in Indonesia.
2. Look Over The Import Regulations in Indonesia
Second, you must know about the import regulations in Indonesia. The most important rule is that you must have an import permit and a legal business in Indonesia. 
With our services, you can still import olive oil legally with the help of our professional and experienced agents. Contact us for more information.
3. Find Out The Olive Oil HS Code
Once all the permits and major regulations are met, the next step is to find the HS code of olive oil. You can search it in our HS code explorer for quick results.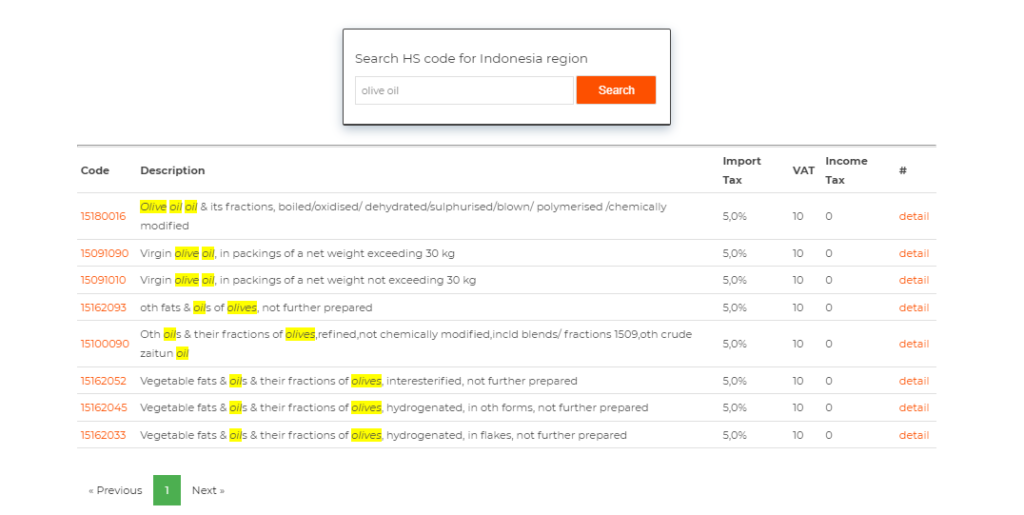 You can find more information about tax percentages and additional documents inside the HS code as the picture below.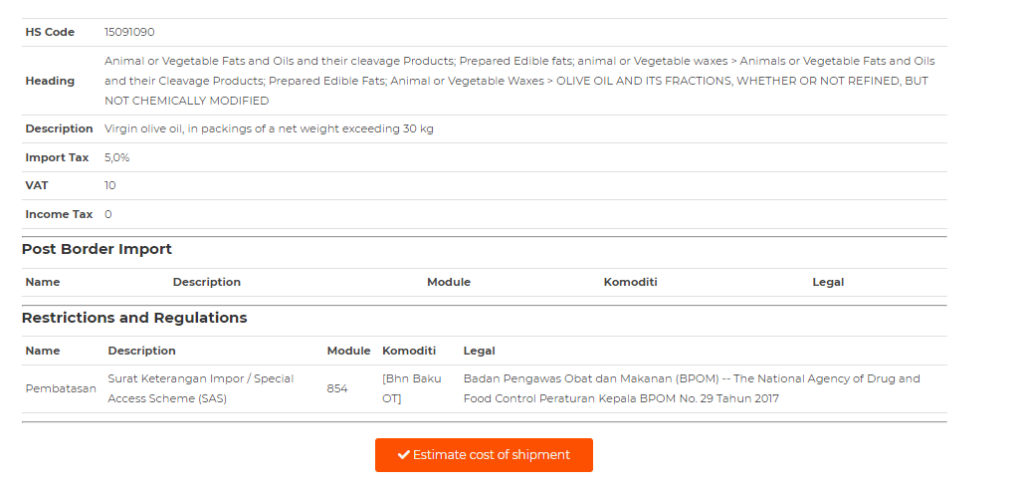 As mentioned earlier, you can get the tax percentage details from the olive oil HS code. As in the picture above, you need to calculate 5% of import duty and 10% of Value-added tax.
5. Complete The Lartas Document
In order to import olive oil into Indonesia, you must bring Surat Keterangan Impor /Special Acess Scheme (SAS). Make sure to have it from Indonesian Food and Drug Association (BPOM).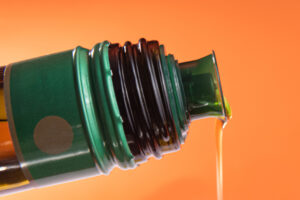 6. Choose a Payment Method
After that, discuss with the people involved in Indonesia the payment method you want to use.
7. Determine The Shipment
The next step is to choose a shipping company that is suitable for the safety of your goods. Do not forget to determine which Incoterm system is best before shipping.
As well as the shipping documents such as the bill of lading. Make sure that the process of stuffing or packing the cargo into the containers is done safely.
When you arrive in Indonesia, you will meet with customs first. They will check the completeness of your goods documents. Prepare all import documents and taxes so that your goods will not be detained at customs.
9. Distribution of The Goods
After customs have declared your goods, you can immediately start distributing the goods in Indonesia.