Each country must have its control over goods entering or leaving the country. Including, Indonesia has criteria for goods that are restricted and even prohibited. In this article, we will discuss Indonesia import prohibition and restriction goods list.
Imports Restriction and Prohibition in Indonesia
Basically, any item that is to be imported into Indonesia must first go through customs clearance. Later, the officer will check the safety of the goods, which are valid documents.
Of course, if they find the incoming goods to be prohibited or restricted goods, the officials will probably seize your goods.
Especially if you cannot complete the required documents. Even, your goods may be re-exported to the country of origin.
Therefore, it is important to know which goods fall into this category. In Indonesia, goods that are restricted and prohibited are usually called lartas.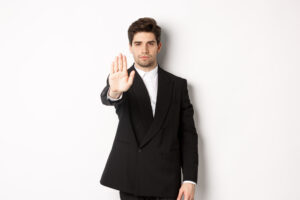 Imports Restricted Goods in Indonesia
For Indonesia import goods restriction, you usually need to submit additional documents that correspond to the goods you want to import.
The goods that belong to restricted goods are as follows.
1. Non-New Capital Goods
2. rice
3. sugar
4. animals and animal products
5. horticulture
6. maize
7. forestry products
8. tires
9. iron or steel, Alloy Steel and their derivatives
10. Clinker Cement and cement
11. Plastic Raw material
12. Color Multifunction Machines, Color Copiers, and color printers
13. subsidized fertilizers
14. lubricants
15. ceramics
16. apartment glass
17. special products
18. salt
19. textiles and textile products
20. TPT Batik and Batik Motifs
21. Cell Phones, Handheld Computers, and tablet computers
22. alcoholic beverages
23. the commodity-based refrigeration system
24. nitrocellulose
25. Non-Pharmaceutical precursors
26. explosives
27. Ozone-Depleting Substances (BPO)
28. oil, Natural Gas, and other fuels
29. Non-Hazardous and toxic (B3) wastes
30. pesticideMaterials (B2)
31. pearls
32. rough diamonds.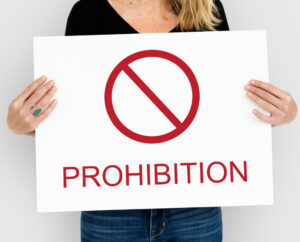 Imports Prohibited Goods in Indonesia
Goods that may not be imported into Indonesia:
1. Used clothing
2. Indonesian and regional printed products
3. Pesticide Ethylene Dibromide /EDB
4. Hazardous waste
5. New and used rags
6. BPO (methyl bromide for fumigation/storage, CFC and halon)
7. Machines using BPO
8. Halogenated derivatives, sulfonation, nitration containing halogens and salts
9. Shrimp (Penaeus Vanamae)
Checking the Restricted Goods Permits in Indonesia
As mentioned above, you need to attach additional documents to import restricted goods into Indonesia. So how do you find out?
1. Find the HS Code of the Goods
First, you need to know the HS code of the goods you need. To check it, you can click on Kickrate's HS code explorer Indonesia. An example of an item you are looking for is rolled corn, as shown below.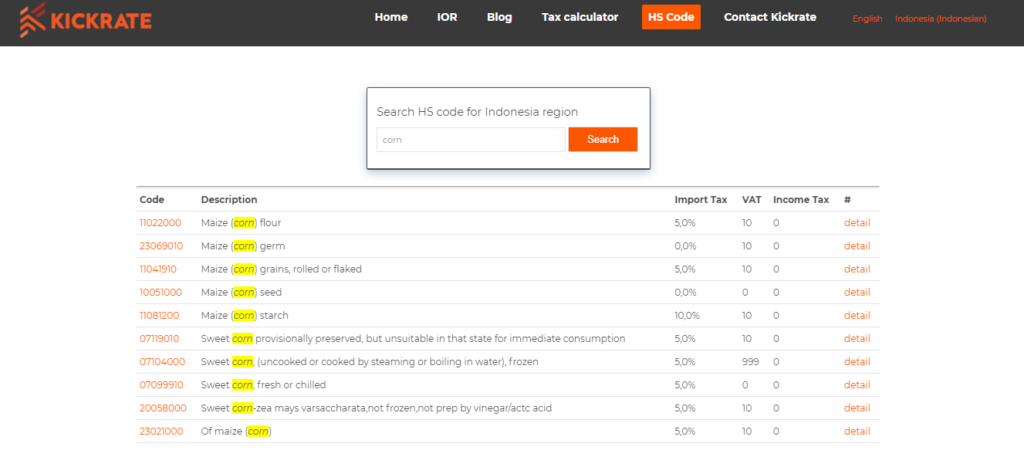 After you find the description of the rolled corn, the number on the left side is the HS code number. Click to see more details.
2. Look at the Post-border and restriction and Prohibition section
After finding the HS Code of rolled cord, scroll down to the 'restriction and regulation' section. Over there, there are details of what additional permit you need to obtain.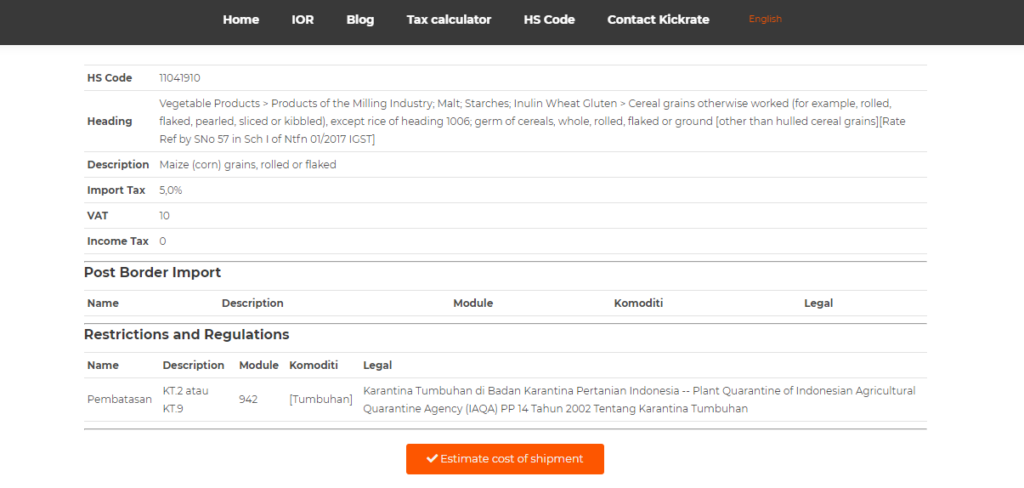 For importing rolled corn to Indonesia, you need a vegetation quarantine certificate (Karantina Tumbuhan/KT) first. 
3. Do Not Forget to Calculate the Tax
Additionally, do not forget to calculate the taxes you need to pay. For the details, you can also see inside the HS Code detail. Or, you can use our Indonesia import tax calculator to get instant results accurately.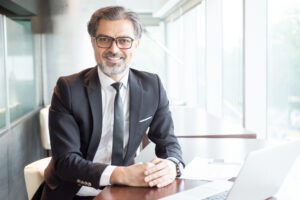 How to Obtain Restricted Goods Permit in Indonesia?
Eventhough an item belong to restricted goods, you can still import them to Indonesia with additional permit. However, obtaining that requires several paths first.
Foremost, it is necessary to have a licensed company in Indonesia. After establishing a company, you can start actively send a request letter to the government instantiation. 
Notably, acquiring the permit is not a simple matter. You have to submit several documents about your goods first. Then, wait for the government inspection until they declare that you can import the goods.
Nonetheless, it can consume your time to handle all of these steps. In case you want to focus more on your core business.
Therefore, having a trusted third part such as Kickrate can help you with all the problems above. We have a customs brokerage and importer of record service, which can help you obtain all these permits.
Not only that, we would like to help import your goods, shipment, customs clearance until delivering your goods to your destination place. Feel free to contact us for more information.