In Indonesia, one of the biggest foreign exchange earners comes from the tourism sector. An important component of tourism is alcoholic beverages. One of the most favorite alcohol beverages is wine. Seeing its potentials, many importers want to import wine into Indonesia. So, how to import wine into Indonesia?.
In Indonesia, licensing and legality of alcoholic beverages is relatively difficult. Starting with the bureaucratic licensing and high taxes. Compared to other ASEAN countries, the consumption of alcoholic beverages in Indonesia is also relatively low. Even lower than in Malaysia and Brunei Darussalam, which are also majority Muslim countries.
Alcoholic Beverages Classification in Indonesia
Meanwhile, Presidential Decree Number 74 of 2013 on the Control and Supervision of Alcoholic Drinks classifies alcoholic beverages produced domestically or imported into three groups, namely:
Group A alcoholic beverages, namely, beverages containing ethanol in the proportion of 1 percent to 5 percent.
Then, alcoholic beverages of Group B, namely, beverages containing ethyl alcohol at a content of more than 5 percent to 20 percent.
Finally, alcoholic beverages of group C, namely, beverages containing ethanol or ethyl alcohol at a content of more than 20 percent to 55 percent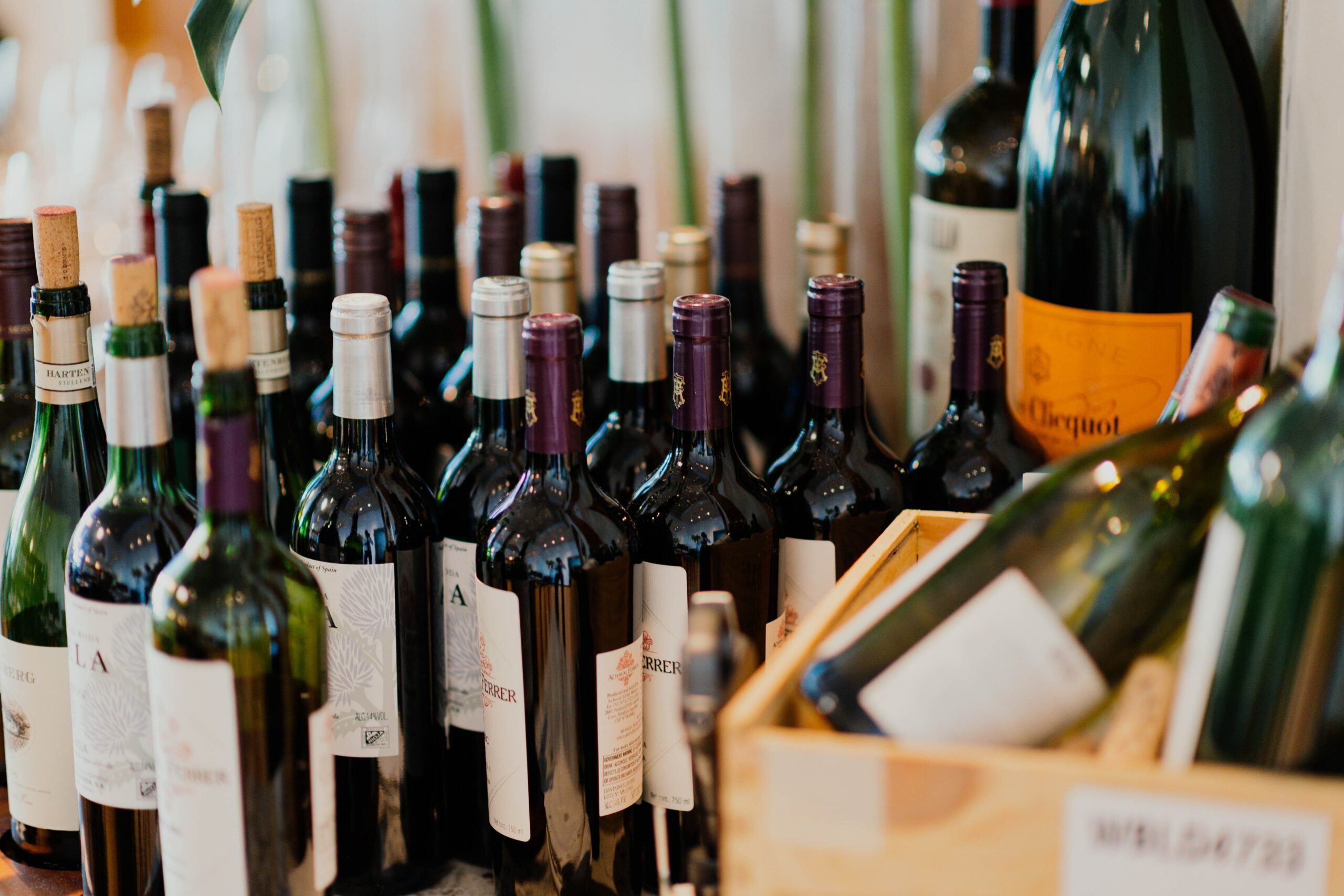 Based on the data from UN Comtrade, it was the most valuable in 2018 with $40.44 million, while in 2015 it was only $10.09 million, which means it increased more than 4 times in 3 years.
Wine with HS code 2204 became the largest with US $ 18.65 million, followed by alcohol 80% (HS 2208) with US $ 18.54 million. Both have a market share of 46% each.
Apart from these two types of alcohol, in 2018 there were beer made from malt with US $ 2.66 million, vermouth with US $ 0.02 million and other fermentation with US $ 0.32 million.
The above data proves that the largest import of alcohol to Indonesia is from the type of wine and alcohol 80% than the category of spirits (alcoholic), the graph always increases from year to year, the highest in 2018.
However, looking at the data from Indonesian Central Bureau of Statistics, the number of imports of alcoholic beverages listed under HS code 22, including vinegar, has decreased from 2018.
In 2018, imports of alcoholic beverages and vinegar totaled US$208.6 million. The following year, 2019, imports decreased to US$136.3 million. Then in 2020, it is only US $85.1 million in the period from January to October.
Lists of Wines Importer Company in Indonesia
Along with the strict rules on importing alcoholic beverages into Indonesia, this has an impact on the number of wine importers in Indonesia. Here are the lists of importing companies and traders of alcoholic beverages in Indonesia :
PT. Dwimitra Sukses Perkasa

PT. Sarindo Makmur Sejahtera

PT. Mandiri Graha Persada

PT. Pelita Makmur Perkasa

PT. Indowines

Artisan Estate (Wine of Gods)

PT. Kaybee Interindo

Boga Fine Wine

PT. Pantja Artha Niaga

Nusa Lembongan Wines & Spirit

PT. Arpan Bali Utama

Vintage International

PT. Megaguna Semesta Raya

Vin Plus Wine Boutique

Wine Shop Indonesia

PT. Maxxium Indonesia

MIREX

PT. Dima Indonesia

PT. Brew Indonesia
Preparation on Importing Wine to Indonesia
As a matter of fact, importing alcohol beverages into Indonesia is far from easy. This happens because of its strict regulations. Hence, you need to prepare some things first, which are :
1. Check Out The Trade Regulation in Your Country
First, you need to check wine trade regulations in your country so that there are no mistakes when importing to Indonesia later.
2. Check HS Code for Wine
In order to see what additional documents needed to import wine, you need to know the HS code first. You can check it on our website here. Type Wine on our search bar to find it.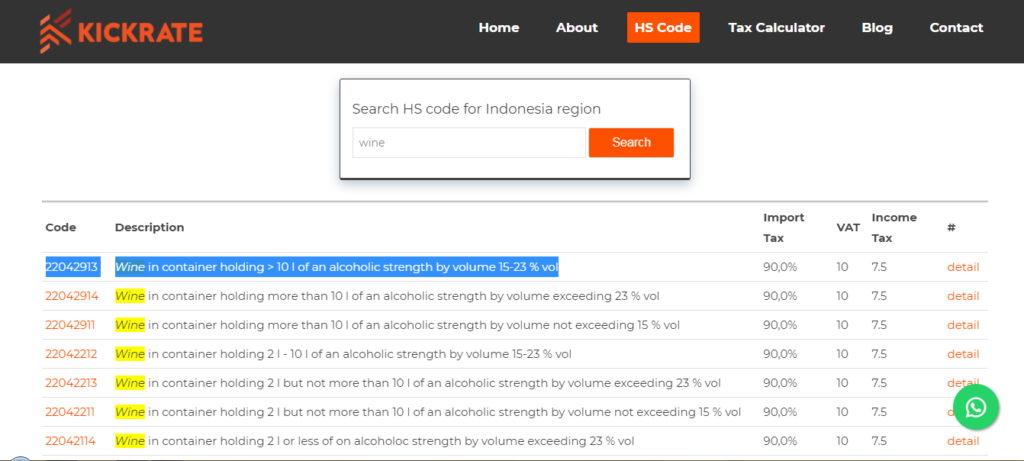 Then click the number on the left that matches your product description. The number on the left is the HS Code. For example, I will click the top result with the HS Code of 22042913. 
3. Calculate How Much Tax You Need to Pay
In order to know how much tax you have to pay, you can also see it on our website. After go on the link above, you can scroll it down

.
On the picture above, the detail of import tax for importing wine you need to pay is 90%. As for the VAT is 10% and Income Tax 7,5%. Besides HS Code lists, You can also use our tax calculator here.
4. Look at the Post Border Import and Restrictions Column
Not only Taxes, you need to also notice the documents needed on the customs/border. To check that, you can look at the Post Border Import  and Restrictions Column on the same page as the picture before.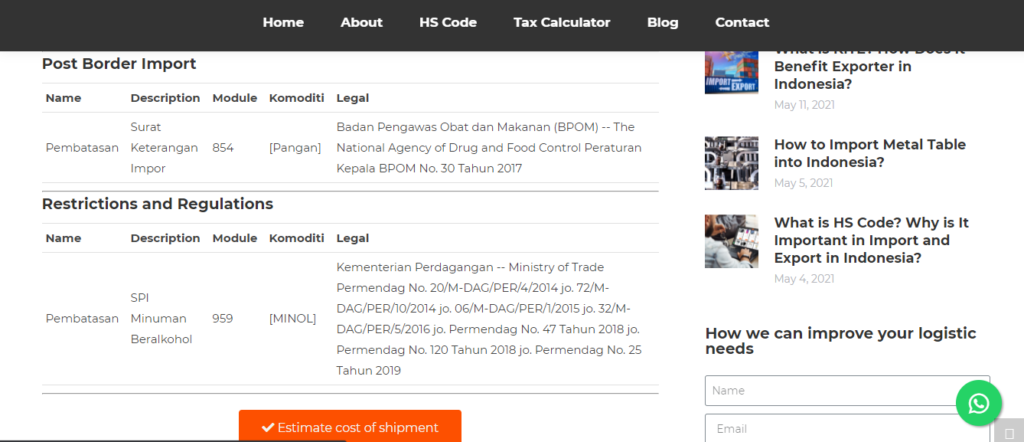 Because wines are considered LARTAS goods, make sure to check whether it has any additional documents to submit to customs or not.
Based on the picture above, it has Pembatasan (Restrictions) notice. You need to submit a Surat Keterangan Impor (Import Permit Letter) Number 854. The contents of this letter declare that the goods you are importing are foodstuffs safe for human consumption. This letter must be approved by the Indonesian Food and Drug Administration (BPOM).
After that, look also at the Restrictions and Regulations column. From there, you need to submit SPI ( Surat Persetujuan Impor) Minuman beralkohol / Import Agreement Letter of Alcoholic Beverages. In this letter, it shows the permit from Indonesian government to import wines into Indonesia.
Requirements on Importing Wine to Indonesia
In order to get your wines successfully imported to Indonesia, there are some mandatory documents you must perform. Which are :
1. NPWP (Taxpayer Identification Number)
First, there is a NPWP. NPWP is a number assigned to a taxpayer as a means of tax administration for the taxpayer's self-identification  in the exercise of his rights and obligations.
2. Registered Importer for Alcoholic Beverages
Second, This is a license stating that you are allowed to import alcoholic beverages into Indonesia.
3. Business Registration Number (NIB).
Third, you need a NIB (Nomor Induk Berusaha). This license declares that you have a legal company in Indonesia to do foreign trading. As stated on Ministry of Trade's policy, those who want to import products to Indonesia must have a legal company first.
On the other hand, what if you don't have a company yet?. Fortunately, you are still able to import things using Importer of Record Service in Indonesia such as Kickrate.
Fourth, There is a Distribution Plan. In this document, you need to state your plan for the imported wines in a year. Such as where you will distribute and sell them.
5. Import Plan for Ordering Alcoholic Beverages Excise Band
Then, For importing wines, you need to order the excise band for alcoholic beverages. Excise bands are security documents as a token of payment of excise duty. By having these documents, your imported wines are able to enter into Indonesia.
6. Customs Registration Number (NIK)
Last, NIK or Customs Registration Number is a registration number / identity issued by the Director General of Customs (DJBC) to individuals and companies. This works as a form of permission to access anything related to customs (imported goods). This document is optional.
If you are a wine manufacturer/supplier who does not yet have a company in Indonesia, processing all permits will take months. You will have to start from finding buildings for the company, completing the company permits, then the import permit documents from the relevant authorities, customs clearance to the delivery of the goods. 
Using an importer of record service such as Kickrate is suitable for those of you who do not want to bother with the matters above. It could also be for those of you who do not have a company and want to import wines with the help of professional hands in Indonesia.