Every year the construction of buildings continues to increase. Starting from houses, apartments, to offices and entertainment arenas like malls. To build all of this, several main raw materials are needed, one of which is cement. As cements are made from clinker, then how does exporting and importing cements and clinkers activities in Indonesia?.
One of the main ingredients in cement is clinker. It is a solid material that is burned in a kiln to form granules or lumps usually 3-25 mm in diameter.
Export Clinker and Cement in Indonesia
In Indonesia, the government's cement production is supplied by PT. Semen Indonesia. PT. Semen Indonesia is a government owned company. From there, there are also several subsidiaries such as PT. Semen Padang , PT. Semen Tonasa , and Thang Long Cement Company.
One of the subsidiaries of PT. Semen Indonesia, PT. Semen Padang, recorded a 61 percent increase in cement and clinker exports in the first quarter of 2021 compared to the same period in 2020. There are two types of cement exported, namely OPC Type I Grade 52.5N and OPC Type I Grade 42.5N.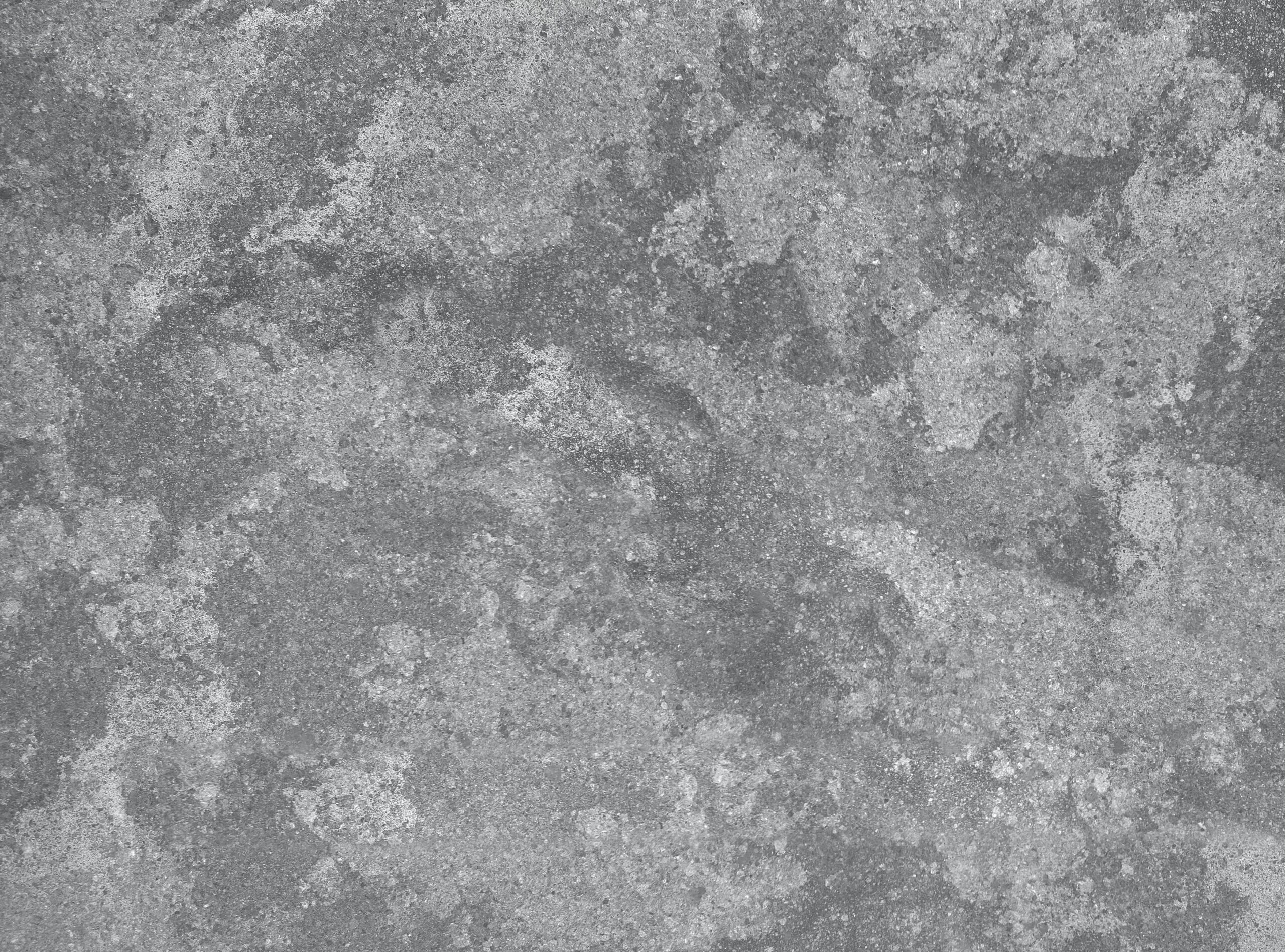 Indonesia's Clinkers Main Export Destination Countries
Besides its value,  PT. Semen Padang also stated the export destination countries in 2020. The main export countries countries for clinkers in 2020 are :
1. Bangladesh,
2. Myanmar,
3. China,
4. Malaysia,
5. Philippines. 
Indonesia's Cement Main Export Destination Countries
Then for cement exports, They are :
1. Australia,
2. Maldives,
3. Sri Lanka.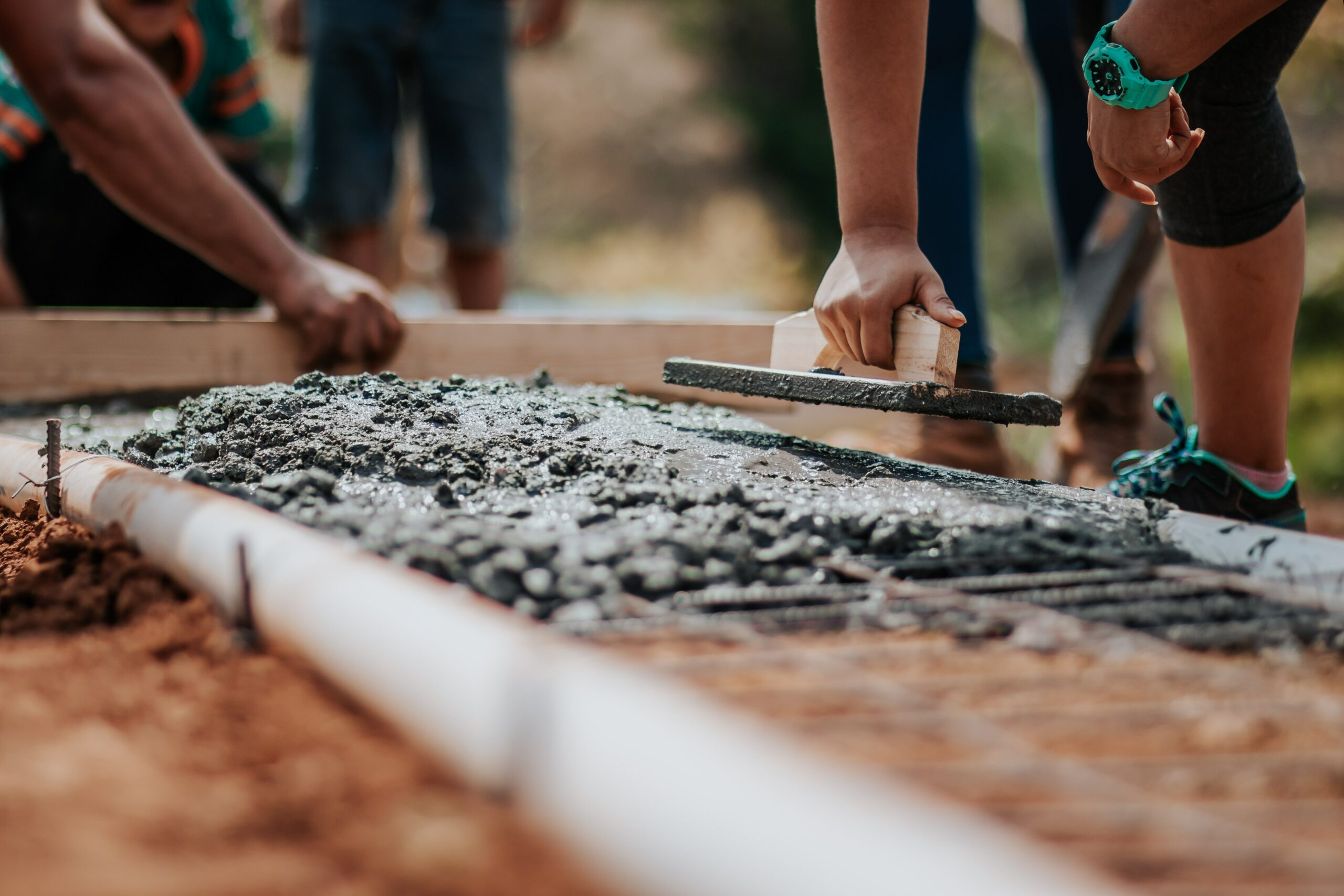 Types of Exporter in Indonesia.
Before exporting cements and clinkers in Indonesia, it is best to understand the types of exporter in Indonesia below.
First, producing exporter is one who produces his own goods in Indonesia and then exports them abroad. As Producing Exporter, in order to become legal, you should fulfill the prescribed requirements, namely:
Initially, A form provided by the Industry and Trade Agency in the regency / city or Provincial Government, as well as the relevant technical authorities.
Second, you need to hold an industrial business license.
Third, Have an NPWP (Taxpayer Identification Number).
Fourth, Submit reports on realization of exports to the officials. Usually Ministry of Industry and Ministry of Trade. This is authorized by Foreign Exchange Bank. 
Meanwhile, a non-producer exporter is an exporter which is not produce the goods you want to export outside Indonesia.
In order to obtain legality, a non producer exporter must comply with the prescribed requirements,
First, Complete the form provided by the Department of Industry and Commerce in the district/city or Provincial Government and related technical authorities.
Second, Have a trading business permit (SIUP)
Then, Submit reports on realization of exports to the Office of Industry and Commerce or designated agencies / officials.  (every three months)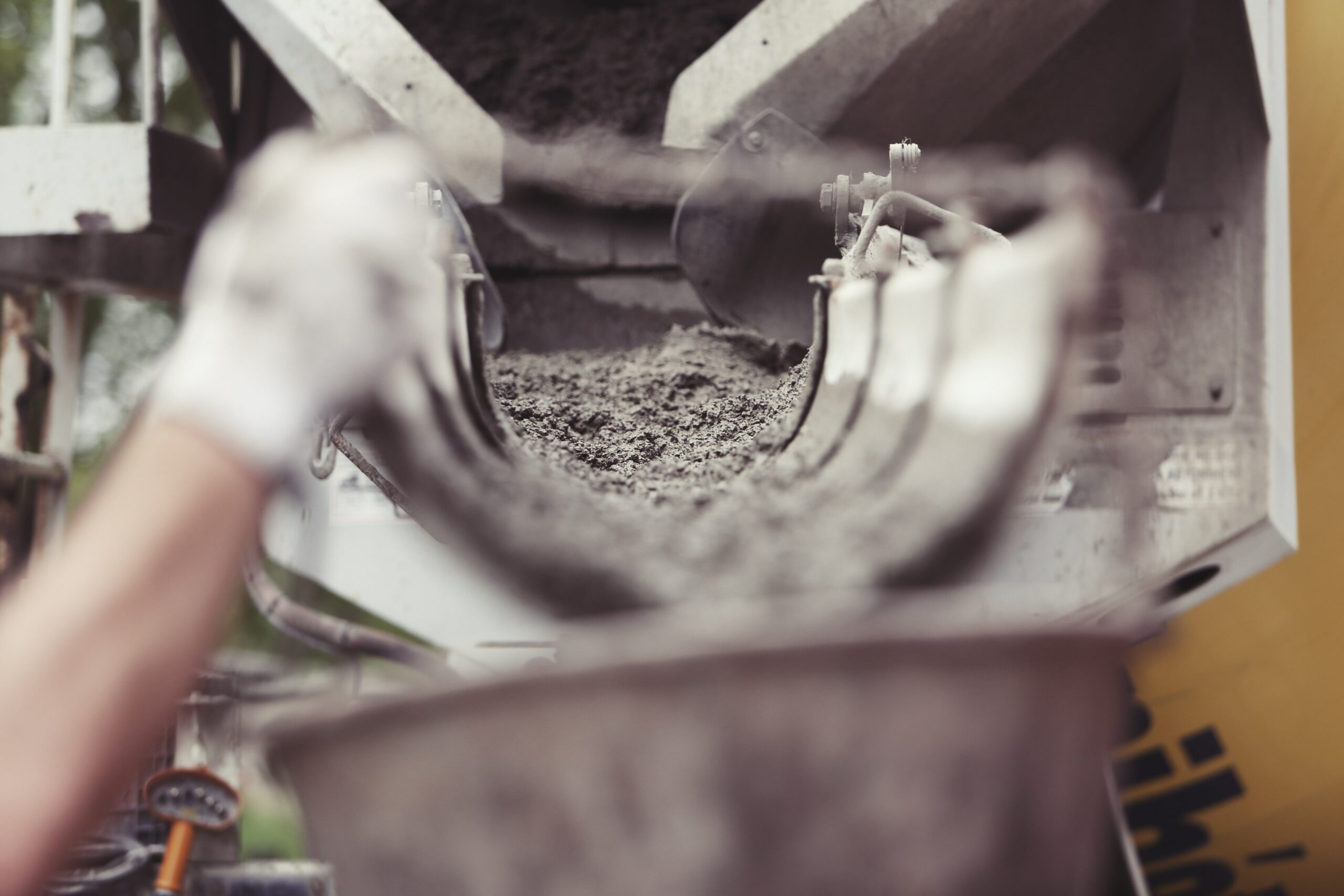 Exporting Clinkers and Cement from Indonesia
Before exporting clinkers and cement from Indonesia, you need to pay attention on some regulations for exporter in Indonesia. Which are :
1. A Company in Indonesia
To export clinker and cement from Indonesia, you must have an established business in Indonesia. 
2. Taxpayer Identification Number / NPWP.
Then there is a NPWP. NPWP is a number assigned to a taxpayer as a means of tax administration for the taxpayer's self-identification  in the exercise of his rights and obligations.
After those above, You need one of the permits issued by the government In order to build an export cement and clinkers company in Indonesia, such as:
Trading Business License (SIUP) from the Industrial Office
Industrial Permit from the Department of Industry
Domestic Investment Business License (PMDN) or Foreign Investment (PMA) issued by Investment Coordinating Board (BKPM)
4. Income Tax/PPh 22 (Pajak Penghasilan)
After that, do not forget to calculate the tax after setting up a business. To export clinker and cement, you need to pay income tax / PPh 22 (Pajak Penghasilan). Thus, this is imposed on certain business entities, both government and private, engaged in export, import and re-import trade activities.
Furthermore, PPh 22 refers to the categories of goods. The goods are such as imported products, purchases of government goods, paper, cement, steel and automobile products, and purchases of luxury goods such as cruise ships.
For exporting cement and clinker, the Director General of Taxes (DJBC) determines PPh tariff of 0,25%. 
Importing Cements and Clinkers to Indonesia
Besides exporting clinkers and cements, Indonesia also import them to fulfill the countries needs. So, What do you need to import cements and clinkers into Indonesia?.
To be able to import products to Indonesia, you first need to find out the HS code of the products.  In order to find it, you can use the HS code search feature on our website here.
In the search bar, you can type clinker.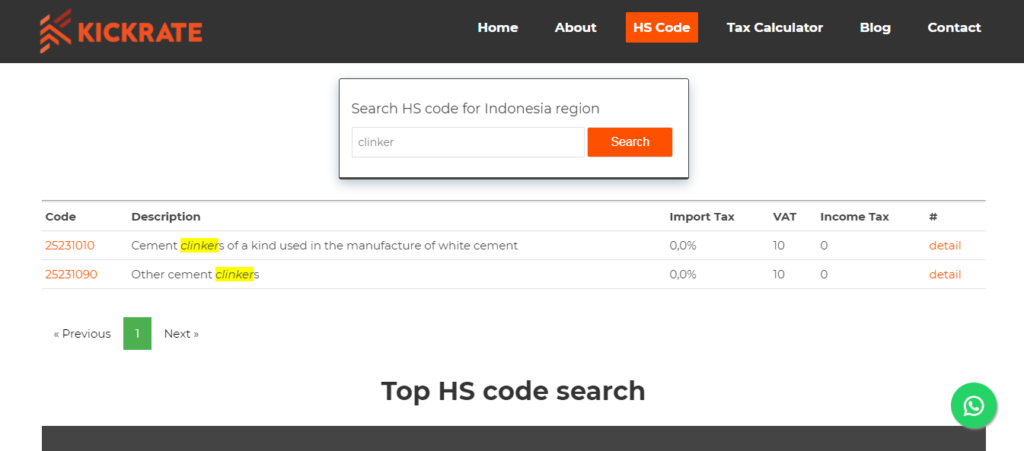 Then select the HS Code description that matches your product. The number on the Code Column is the HS code number for the product you are looking for. You can click the top result, which is 25231010.
2. Calculate How Much Taxes You Need to Pay
In order to know how much tax you have to pay, you can also see it on our website. After you find the right HS Code for your product, then click the HS Code to see all details. After you click the clickers HS Code above, you can see the detail as the picture below.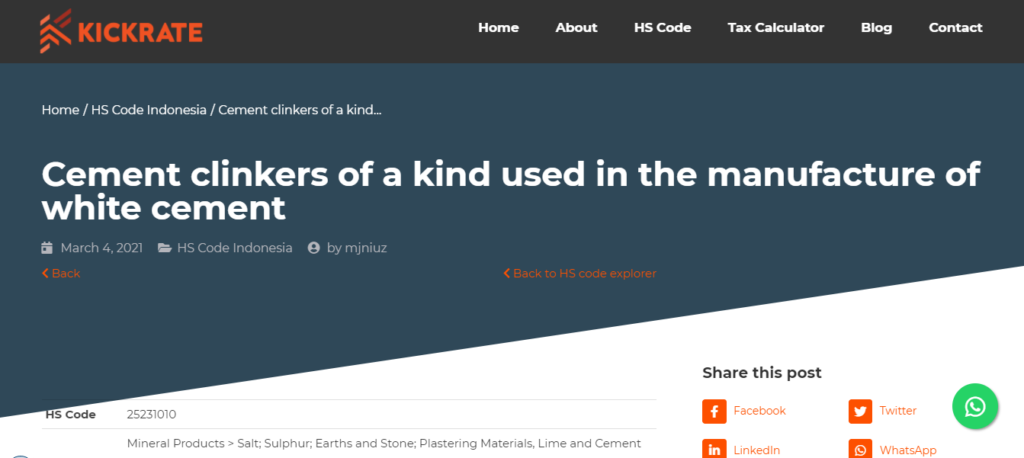 Scroll it down, You can see in the tax column. Based on the picture above, you have to pay VAT(Value Added Tax) 10% for importing clinkers to Indonesia. You can calculate it yourself or use our calculator here
3. Look at the Post Border Import Requirement
Afterward, pay attention on the Post Border Import requirements. This is to make sure whether it has any additional documents to submit to customs or not.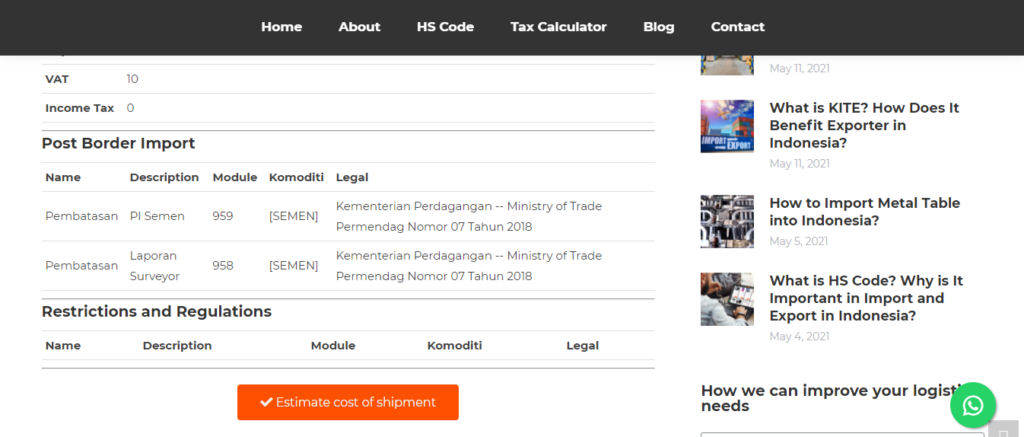 Based on the picture above, it has two Pembatasan (Restrictions). You need to submit PI (Perizinan Impor) Semen / Cement Import License. Besides PI Semen, you also need to include Laporan Surveyor (Surveyor Report) on the documents. Without those documents, your goods will be detained at customs.