Export IT equipment to Indonesia with
KICKRATE
We specialize in exporting, importing and customs clearance for these product categories:
Exporting and importing a laptop or PC
For laptops or PC products, the HS code with the heading 8471.30 is normally used, but if the HS code is to be used in Indonesia, it must be 8 digits, namely 84713020. The HS code contains the following tax information:
Laptop, PC, Servers
Normally use 8471.30 for international HS Code
IT Equipment
It depends on the supplier for the product HS code, and not all the latest IT equipment products have this HS code in Indonesia
Customs clearance
Import required documents such as license for POSTEL, API-P, Surveyor Report etc without having a business entity in Indonesia
For this HS code, there are special requirements or regulations put in place by the Indonesian government
So what needs to be done before we can import products with this HS code is to perform a verification and Surveyor Report (LS).
To obtain an LS, importers must follow the verification procedure (VPTI) established by the KSO-Sucofindo – Surveyor Indonesia (abbreviated KSO-SSI). This requires the following documents and registrations:
Trading Business Permit (local entity) (SIUP)
Import Identification Number (API-P, API-T or API-U)
Company Registration (TDP)
Taxpayer Identification Number (NPWP)
Bill of Lading (B / L ) or Airway Bill (AWB)
Certificate of Analysis (COA)
Certificate of Origin (COO) specifically for certain products
Seems complicated doesn't it?
Importer of Record service offered as a solution by
KICKRATE
We offer the customs clearance that you need to import to Indonesia even when you don't have legal entity there, which is one of the conditions for importing goods.
Our Importer of Record (IOR) service works with local firms without needing to have legal entity in Indonesia
Professional advice on shipping and customs from our team
Get easy access to tracking and creating orders with our import/export platform
Simple steps to create an import/export shipment to Indonesia

Enter value, quantity and HSCode and then simply search for your goods with our platform

Upload required documents such as a packing list and an invoice directly through our platform

We will send you a detailed quote with the exact information to fulfill your shipping orders

Easily track your shipment and wait for your goods to be delivered to your destination
Paperless customs clearance with tracking system
Unlike the usual customs clearance in other countries, we do all the shipping clearance with advanced technology, from estimating the tax to the last mile delivery. No paper at all.
No need for your own legal entity and import license in Indonesia.
Avoid working with Indonesian customs, submit your shipment today and get a real-time cost and tax estimate.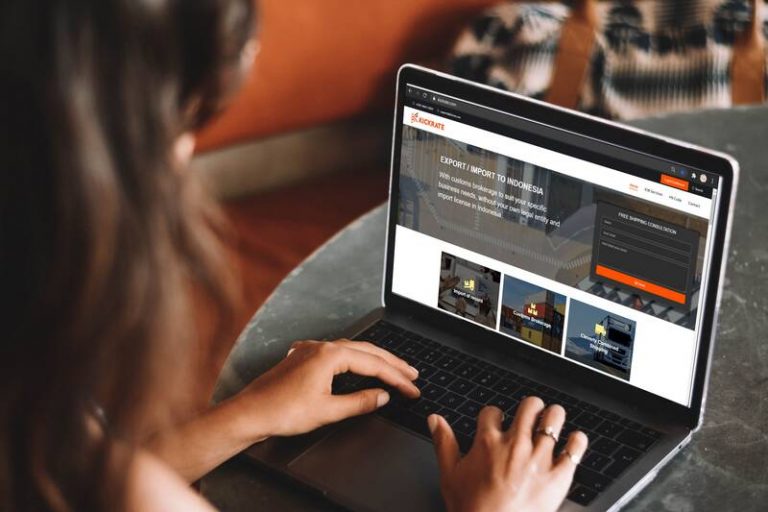 Create a meeting schedule
Get a free consultation with our professional team, describe your needs and we will contact you
Address Gedung Satrio tower lantai 26 unit C-D Jl Kuningan Timur, Setiabudi, Kota Adm. DKI Jakarta, Indonesia
Email support@kickrate.com