International Trade - export import video conference
with KICKRATE
International trade help Indonesian get their computers. If you wanna know how, keep on reading because we are about to give you a step by step on how to import IT Products in instance. Take for an Example, the steps on export import video conference device.
With the help of Video Conference technology, user from different locations were able to do a face-to-face meetings without actually having to get into a certain same location.
And by the way, because we are a certified Importer of Record that are experienced in importing IT devices, you can contact us here for instance.
Video conference is a very useful technology nowadays, while our physical meetings are being banned due to COVID-19. When you want to purchase that, and know exactly where the product are from, next step is preparing the needed documents to export import video conference
Customs clearance
Import requirement document such as license for POSTEL, API-P, Surveyor Report etc without having business entity in Indonesia
The steps on export import video conference
Firstly, you will have to get on contact with the supplier to get to know on how much money you will be paying to export import video conference and the terms of trade. There are five terms of trade such as FOB or free on board, cost and freight, cost insurance and freight delivery duty product or free alongside ship cost. These are the five most basic costs terms that are available.
To export import video conference, the HS code is 8551.62.50
Secondly, you need to find out about the international trade regulation, know the total weight of your product, choose the best shipping way such as ocean or air freight, find out about the HS code that suits your product, understand all the government regulations about international trade on that specific country, and complete all the needed documents.
For a export import video conference product for example, you will need to pay for about Rp. 1,422,087,000,00-
Thirdly, to secure your purchase from the origin place to destined location, you need to decide on what insurance is best for your purchase. Then, the next step is understanding of customs regulation. Using the HS code, you can figure out the tax and import duty it is 10% , the VAT 10% and the income tax is 2,5%. Beside all of that, there is also the information of border restriction, and its Rp. 10,000,000.
later, you need to decide on your payment method. There are many options such as bank transfers, credit card, letter of credit, open account, and a lot of other ways.
Its a long process to internationally ship or import your product right? From every countries tight policy, process and all. Worry no more, cause Kickrate team got your back on this! You can easily ship your goods with us, with paperless method, even with free consultation before deciding on shipping, with our professional team! What are you waiting for? You can contact us and start export, or importing, Now!
Seems complicated isn't it?
Importer of record service as a solution by
KICKRATE
We offer customs clearance to Indonesia that you need without having legal entity in Indonesia, which is one of the conditions for importing goods
Our service importer of record (IOR) work with local firms without having legal entity in Indonesia
Professional advice on shipping and customs from our team
Get easy access to tracking and creating orders with our import/export platform
Simple step to create an export / import shipment to Indonesia

Enter value, quantity and HSCode and simply search for your goods with out platform

Upload required documents such as packing list and invoice directly with our platform

We will send you a detailed quote with exact information to fulfill your shipping orders

Easily track your shipment and wait for your goods to be delivered to your destination
Paperless customs clearance with tracking system
It's not like the usual clearance in most countries, we do all the shipping clearance with advanced technology, from estimating the tax to the last mile delivery. No paper at all.
Without your own legal entity and import license in Indonesia.
Avoid working with Indonesian customs, submit your shipment today and get a real time cost and tax estimate.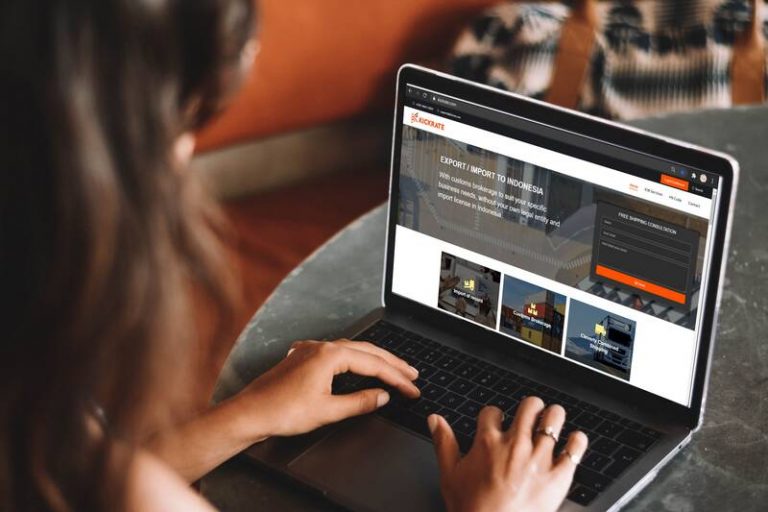 Get a free consultation with our professional team, describe your needs and we will contact you shortly
Address Gedung Satrio tower lantai 26 unit C-D Jl Kuningan Timur, Setiabudi, Kota Adm. DKI Jakarta, Indonesia
Email support@kickrate.com