There are so many products made from palm oil that are used for daily needs. One of them is palm kernel acid oil (PAO). In Indonesia, there are many palm acid oil supplier. No wonder, Indonesia is one of the largest palm oil producers in the world. In this article, we will discuss how to buy palm acid oil in Indonesia.
Palm Kernel Acid Oil (PAO) in Indonesia
Palm Acid Oil (PAO) or better known as dirty oil, is a byproduct of the palm oil refining process. This product has similarities with palm fatty acid distillate (PFAD).
The main uses of PAO are as fuel, animal feed, material for soap making and distilled fatty acid production, etc. Usually, most of the content is FFA (over 50%) and neutral oil, with 2-3% plasticizer and other residues.  
What to Prepare to Import PAO from Indonesia
If you want to buy PAO from Indonesia, then you need to follow the rules for importing goods from Indonesia. In doing so, there are some important things that you need to be aware of.
First of all, it is better to check the HS code for palm oil in Indonesia. To find out the HS code of palm kernel oil, you can use our HS code explorer directly using the search box.

The second point you need to pay attention to is the tax calculation. To calculate the taxes, you can query the found HS code. For example, you can see that the HS code of PAO is 38231930. You can click on the HS code number to get more information.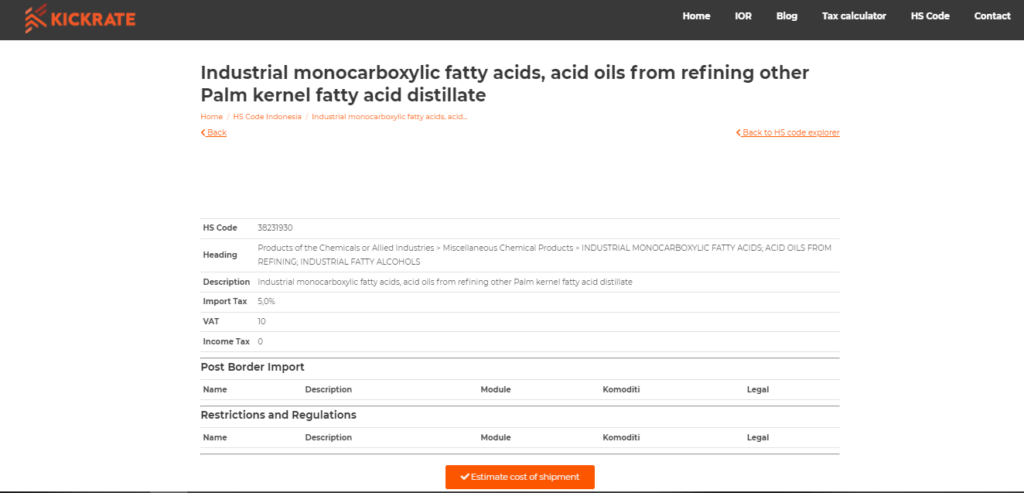 In the column Import Tax, you can see that there is 5% of import duty and 10% of VAT.
3. Look Out for the lartas
In addition to the duties, it is important to see if there are any restrictions and bans on the products being imported. In Indonesia, the prohibitions and restrictions on imported goods are also called lartas.
The blank information in the last picture above shows that you do not need to attach any other documents to buy palm kernel acid oil from Indonesia.
Import and Buy Palm Acid Oil from Indonesia
There are important requirements to import PAO from Indonesia, such as a company registration number, a physical company in Indonesia, licensing of goods and taxes, etc.
It also applies if you only want to find a trustworthy palm acid oil supplier in Indonesia.
What if you do not have time to take care of all that?
Another solution is to hire a trusted local service provider. In Indonesia, there is Kickrate which has experience in Importer of Record (IoR) and brokerage services. For more information, feel free to contact us. And also sign up to our platform to get access of our Indonesia import tax calculator and import simulator.